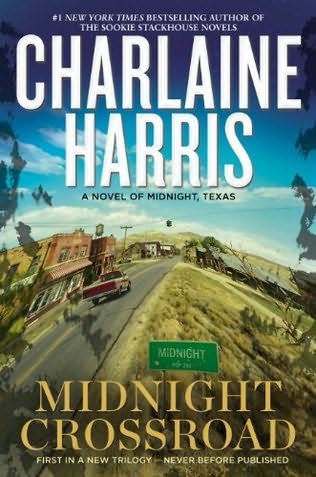 Midnight Crossroads
Midnight, Texas
paranormal suspense, paranormal thriller
Welcome to Midnight, Texas, a town with many boarded-up windows and few full-time inhabitants, located at the crossing of Witch Light Road and the Davy highway. It's a pretty standard dried-up western town.
There's a pawnshop with three residents. One is seen only at night. There's a diner, but people stopping there tend not to linger. There's a newcomer, Manfred Bernardo, who just wants to work hard and blend in. But Manfred has secrets of his own...
Despite being a longtime fan of Charlaine Harris, I didn't become interested in this series until the television adaptation, Midnight, Texas, premiered this summer. Full disclosure: I watched the first season of the show before reading a page of this book. I will do my very best to keep my thoughts on the two separate. However, I must point out the major difference was that the television version was dramatic with paranormal flair, whereas the book was much more subtle in most elements.
As a Midwestern girl, it is quite easy to envision the sleepy, desolate town that is Midnight, Texas. The world Harris creates is certainly a fascinating one. It has to be- with a vampire, a witch, a psychic, a "good ole boy," and a mysterious bad ass female, among others. I was expecting them to all band together, Buffy-style, to fight a "big bad" and I was only partially disappointed that the big obstacle in this book was related to Bobo's missing girlfriend. Even that mystery was fairly simple to discern about two-thirds of the way through the book.
Despite the intrigue, for a "mystery-romance-paranormal mash-up", the series was decidedly light on both romance and deep character development. I'm going to assume that this is because the first book is merely an introduction to the characters. Unlike most of my favorite series, I don't feel like these characters are my friends- I don't know them well enough for that. I'm invested and I want to know what happens to them, but I don't HAVE to know right NOW. As an obsessive reader, this is a different feel for me. I will buy the next two books in the series, but it has been a couple days since I finished Midnight Crossroad, and I'm okay taking a time out before returning to the story. I prefer books that I just can't put down, so this was just mediocre for me.
Coming soon: Katie's thoughts on the television adaptation, the differences, and her favorite format between the book and show.