I have to thank Riverina Romantics for hosting this hop!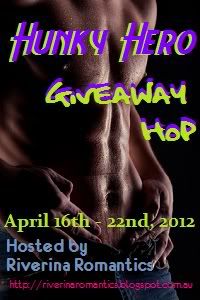 I cannot make the post I wanted to make just yet (I wanted to introduce The Famished Trilogy's hero), but I will come through on the hop with a giveaway.
It's international and only if the book depository delivers to your country!
I'm giving away a book of your choice under 15 US dollars! No, it does not have to have a hunky hero in it, but it is highly recommended!!!
How to enter: Follow me any which way you can and leave a comment stating your favorite hunky hero along with your e-mail. I'll choose a winner via Random.org!
Be sure to come back for my own cover reveal this week! =D
Don't forget to visit the whole hop!