If you stopped by yesterday and my blog looked wacky… my sincere apologies. I have been working on a blog make over. TA-DA!
Please join in the fun!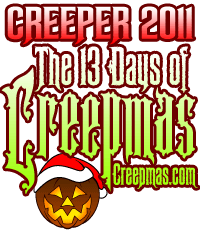 This is for blogs who like a little spooky with their Holly Jolly! Takes place December 1-13. Click on the badge to sign up or you can
click here!
Also, a participant was cool enough to make more badges…
get them here
!
I already have some cool ideas for posts… I'm super stoked, and with all my other Halloween Blogger friends… I know we can make this cool!
I've been seeing a lot of these lately:
While this is funny and all… I just think it's weird the turkey is complaining. If I were a turkey, I would hope that everyone would forget Thanksgiving. That way, I wouldn't have to lose my feathers and get stuffed with cornbread.